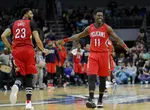 All Smiles as the Pelicans Down Spurs in Season Finale
Photo by Streeter Lecka/Getty Images
It would come down to the final game of the regular season, New Orleans Pelicans vs. San Antonio Spurs. Both of these teams were looking to put themselves in better position to advance in the NBA Playoffs, and avoid one of the top seeds.
As the game got under way the Smoothie King Center was packed and ready. The Pelicans got off to a good start as Anthony Davis was extremely active on defense with two blocks and off one of those blocks, Rajon Rondo found Nikola Mirotic for a transition three-ball. Spurs head coach Gregg Popovich was not pleased there was no foul called down the other end and received a technical foul. After Davis missed the free throw New Orleans lead 17-10 for their biggest lead of the quarter.
The Spurs would rally to close the quarter as they went on a 7-2 run and after the first quarter the Pelicans lead 27-26. Davis and Jrue Holiday lead the way with six points each.
The second quarter began much like the first quarter ended, back and forth until about the 4:25 mark remaining in the quarter. From there it was all Pelicans as they closed the half on a 19-4 run, New Orleans outscores San Antonio 34-17, and lead 61-43 going to the half.
At this point every single starter was plus double-digits in their plus/minus, Mirotic had 17 on 7/10 shooting, Rondo was creating big time with eight points and eight assists, and Davis had three blocks.
As we got going into the 3rd quarter it was more of the same, no big runs, the Pels got the lead up past 20 a couple of times but each team scored 29 points. That meant New Orleans was able to retain their lead stead at 18, 90-72.
As the fourth quarter rolled around there would be no dramatic comeback by the Spurs, it was all New Orleans Pelicans as they dominated from the second quarter on in this one. The final score, 122-98 and New Orleans has put themselves in much better playoff position.
Rajon Rondon was the player of the game, he continued his extremely strong play as he lead the offense with 14 assists and added 19 points to go along with it. Every single starter scored in double figures and lead by Jrue Holiday's 23 points, Ian Clark added 11 off the bench.
The Pelicans will travel to Portland to play the Trail Blazers in the first round of the NBA Playoffs.
For all my sports posts and to hear my inner sports thoughts, make sure to keep up with me on Twitter and Facebook.