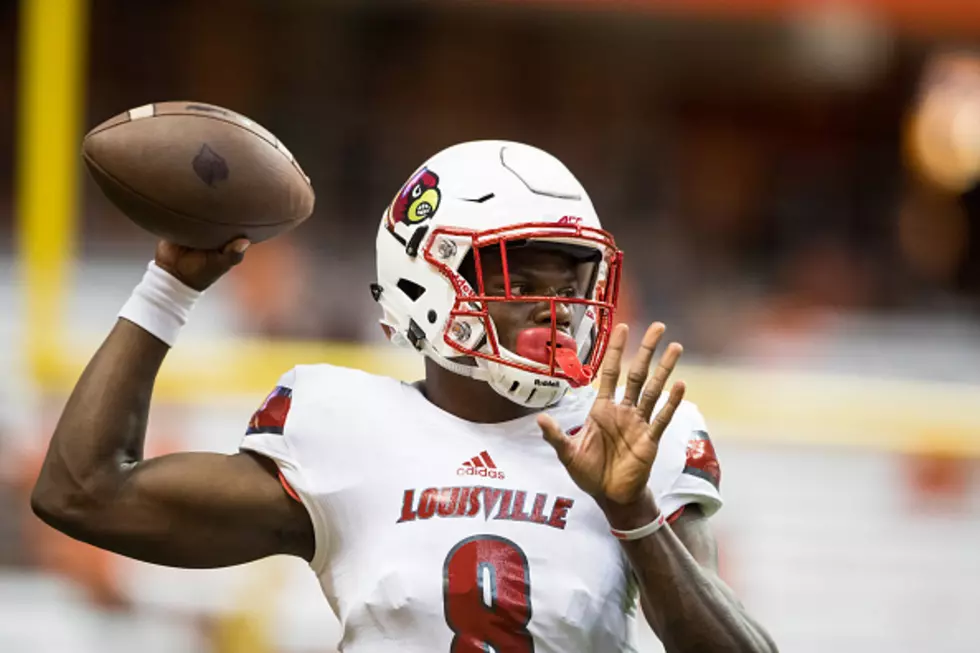 Five Intriguing Games This Weekend – From the Bird's Nest
Getty Images/Brett Carlsen
The most intriguing games are, really, pretty obvious this week.  This marks the first time ever that the top three teams are all on the road to face other ranked teams.  That, in itself, is pretty intriguing.
And, while not on my list this week, how does Oklahoma State respond after last week's controversial loss to Central Michigan against a Pittsburgh team coming off a huge win against Penn State in the first meeting between those two schools in sixteen years?  We'll be keeping an eye on that one.
Here are the marquee matchups
#2 FLORIDA STATE (2-0) at #10 LOUISVILLE (2-0, 1-0) (+2)  11 am  ABC -- There's no better way to start the day in this one, which has a chance to be the best game of them all...especially if you like offense.  FSU already has one marquee win.  Louisville doesn't, but the Cardinals have scored 138 points in two games.  That isn't a misprint.  Lamar Jackson is getting plenty of Heisman buzz after scoring 13 touchdowns in his first two games.  Bobby Petrino's club gets into the CFP conversation with a win in this one.  It would behoove the Seminoles not to fall behind as they did against Ole Miss.  Have your remote ready to keep tabs on Miami-Appalachian State
#22 OREGON (2-0) at NEBRASKA (2-0) (-3)  2:30 pm  ABC--Neither team has much on their resume thus far.  The Ducks have scored 97 points in two games against the likes of UC-Davis and Virginia.  The bad news is, they've given up an average of 27 in those two contests.  Nebraska has vanquished two Mountain West foes in Fresno State and Wyoming by a combined 95-21.  This game will give us an idea where these two teams stand.  Of course, a good part of the country will be watching...
#1 ALABAMA (2-0) AT #19 OLE MISS (2-0) (+11')  2:30 pm  CBS -- Crimson Tide coach Nick Saban ripped into his team in the post-game press conference after Alabama's win over Western Kentucky, calling his team's performance embarrassing.  He didn't have much nice to say about Lane Kiffin either.  And, none of that had much to do with the Hilltoppers as it did Saban's desire to get immediate focus on this week's opponent.  The Rebels have won the last two meetings and they've got plenty of firepower.  Hence, the posturing.  Alabama was an angry football team when they took the field in Tuscaloosa...and lost.  They have to make sure all that anger is properly channeled this time around.  Ole Miss is capable.  Saban knows it.
#12 MICHIGAN STATE (1-0) at #18 NOTRE DAME (1-1) (-7')  6:30  NBC -- The Big 10 is getting a lot of love in the polls.  The biggest question among those teams might be the Spartans, who didn't exactly set the world on fire with their 28-13, ho-hum performance against FCS foe Furman in the opener.  They've had an extra week to prepare for the Fighting Irish, who took care of Nevada last week after their opening week loss to Texas.  Many believe Notre Dame can't get to the playoff with one loss.  They certainly can't get there with two.  Big Ten fans will have clicker in hand, keeping tabs on...
#2 OHIO STATE (2-0) at #17 OKLAHOMA (1-1) (+1) -- 6:30  FOX --  After spending most of the last few years beating up on the MAC in non conference play, it's good to see an elite team from the Big 10 going on the road to take on an elite team from the Big 12.  And, the Sooners' loss to Houston doesn't take any luster off this one.  The Big 12 has already taken a few bad losses here early in the season.  A win here would do wonders for its reputation.  OU isn't a home underdog very often.  Ohio State is frequently a road favorite.  Take this game and add Michigan State and Nebraska, and the Big Ten has an opportunity to make a really, really big statement this weekend.