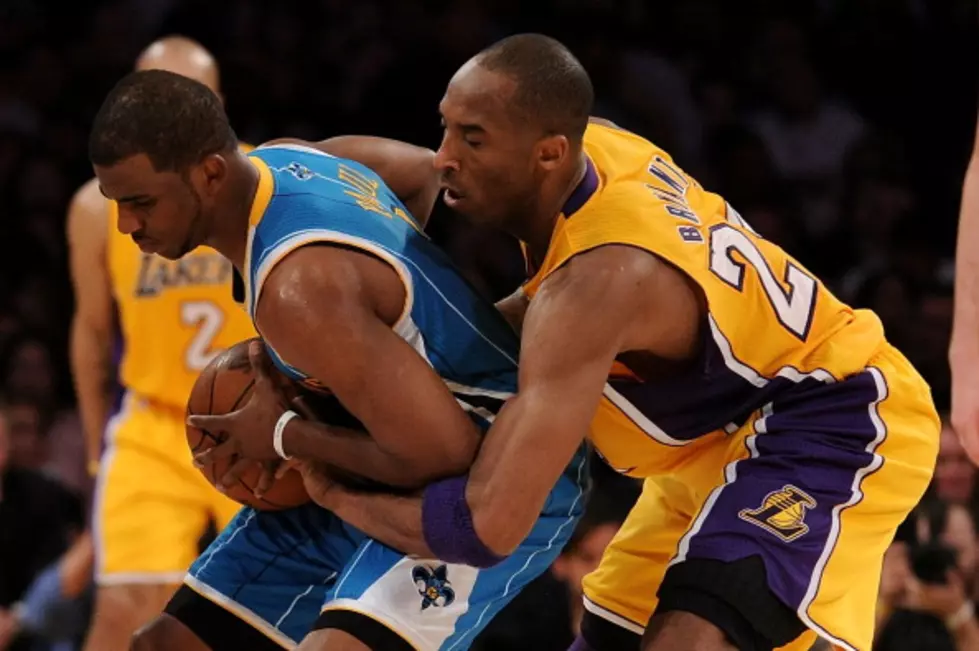 Photo by Harry How/Getty Images
The Hornets will return to New Orleans tied 1-1 with the L.A. Lakers in the best-of-seven playoff series. New Orleans missed a golden opportunity to go up 2-0, but fell to the Lakers Wednesday night 87-78. Trevor Ariza led all scorers with 22 points. The former Laker and starting Hornet small forward pulled down 7 boards, had 3 assists and 1 block in a losing effort. Here is more from the AP and espn.com, followed by more blogging from Scott.
Andrew Bynum had 17 points and 11 rebounds, Lamar Odom scored 16 points, and the Los Angeles Lakers survived poor games from their two biggest stars to even their first-round playoff series with an 87-78 victory over the New Orleans Hornets in Game 2 on Wednesday night.
Ron Artest added 15 points as the two-time defending champions rebounded from a stunning nine-point loss in the series opener with an improved defensive effort against Chris Paul, who still had 20 points and nine assists after shredding Los Angeles' defense in Game 1.
With Odom's outstanding performance leading strong bench play, the Lakers overcame the struggles of All-Stars Kobe Bryant, who managed just 11 points, and Pau Gasol, who had eight.
When you hold Kobe Bryant and Pau Gasol to 19 points collectively, you have to take advantage. Despite a solid defensive performance from the underdogs, the Hornets could not get enough offense. Three big stats stand out from Game 2. Bench points, turnovers, and free throws.
After outscoring the Laker bench by 18 in Game 1, the Hornet bench players scored a paltry 13 points, while allowing 27 from the Laker backups.
More importantly than offensive bench production, was ball protection. New Orleans tied a playoff record with only 3 turnovers in Game 1. Wednesday night, they commited 16, which led to 22 Laker points.
Lastly, the Hornets could not take full advantage at the charity stripe. 12 missed free throws is unacceptable when you are the scrappy underdog trying to steal a playoff game on the road.
Overall, the effort was there for the road team. The physicality and feisty scrapiness Monty Williams' team displayed in Game 2 showed the Lakers that the Hornets aren't a one hit wonder. Expect a spirited Hornet squad to show up at the Hive Friday night for Game 3. Tip-off in New Orleans is set for 8:30.