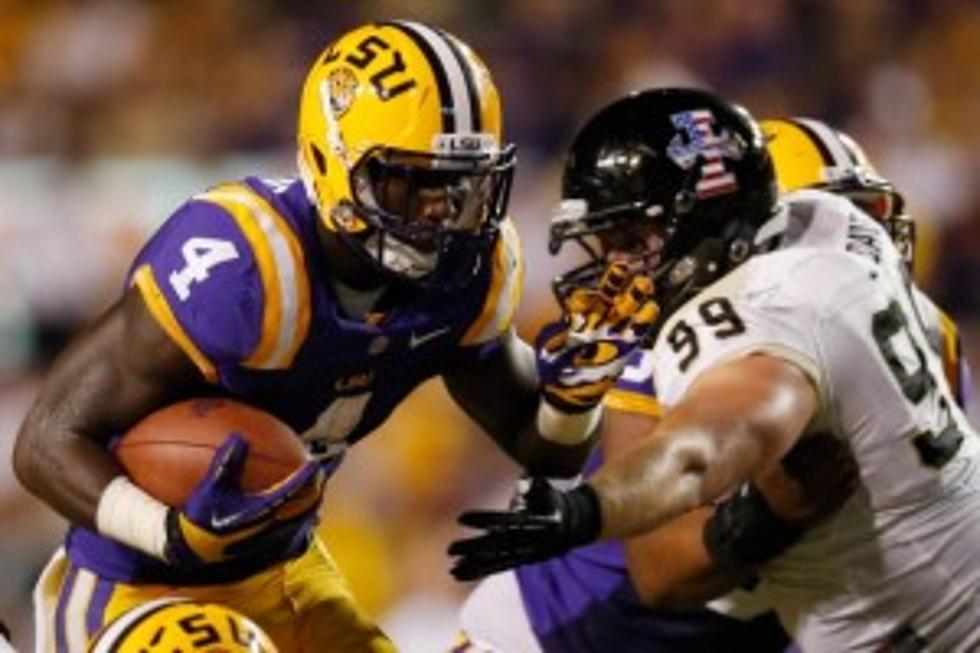 LSU Easily Disposes Of Idaho 63-14
The LSU football team welcomed the Idaho Vandals to Tiger stadium Saturday night and treated them to a 63-14 whopping.
The Tigers put points on the board through the air, on the ground, and with defensive touchdowns.
For starters, the LSU ground attack continued its dominance. Kenny Hilliard broke the century mark for the second time this season, going for 116 yards on 11 carries and 2 touchdowns, including a career-long 71 yard scoring run. Freshmen Jeremy Hill saw his first playing time, making the best of it with 61 yards and 2 rushing touchdowns. Alfred Blue (pictured left), the Tigers leading rusher going into the game, finished with 46 yards on 10 carries and a touchdown. As a team, the Tigers rushed for 250 yards.
Zach Mettenberger was above average against a weak Vandals defense. 17 0f 22 for 222 yards and 2 scores with 1 interception is an expected stat line for #8 in a game against Idaho. Mettenberger and Kadron Boone hooked up for their 3rd touchdown of the season from 17 yards out early in the first quarter. Jarvis Landry reeled in 5 passes for 35 yards and a score. Odell Beckham Jr. finished with 4 catches for 73 yards, while Russell Shepard grabbed 3 passes for 68 yards.
Defensively, the Tigers intercepted Vandal QB Dominique Blackman 4 times. Sophomore defensive back Ronald Martin (pictured left) had 2 picks, including 1 he took to the house from 45 yards out. LSU defensive end Lavar Edwards had a pick six of his own from 23 yards away.