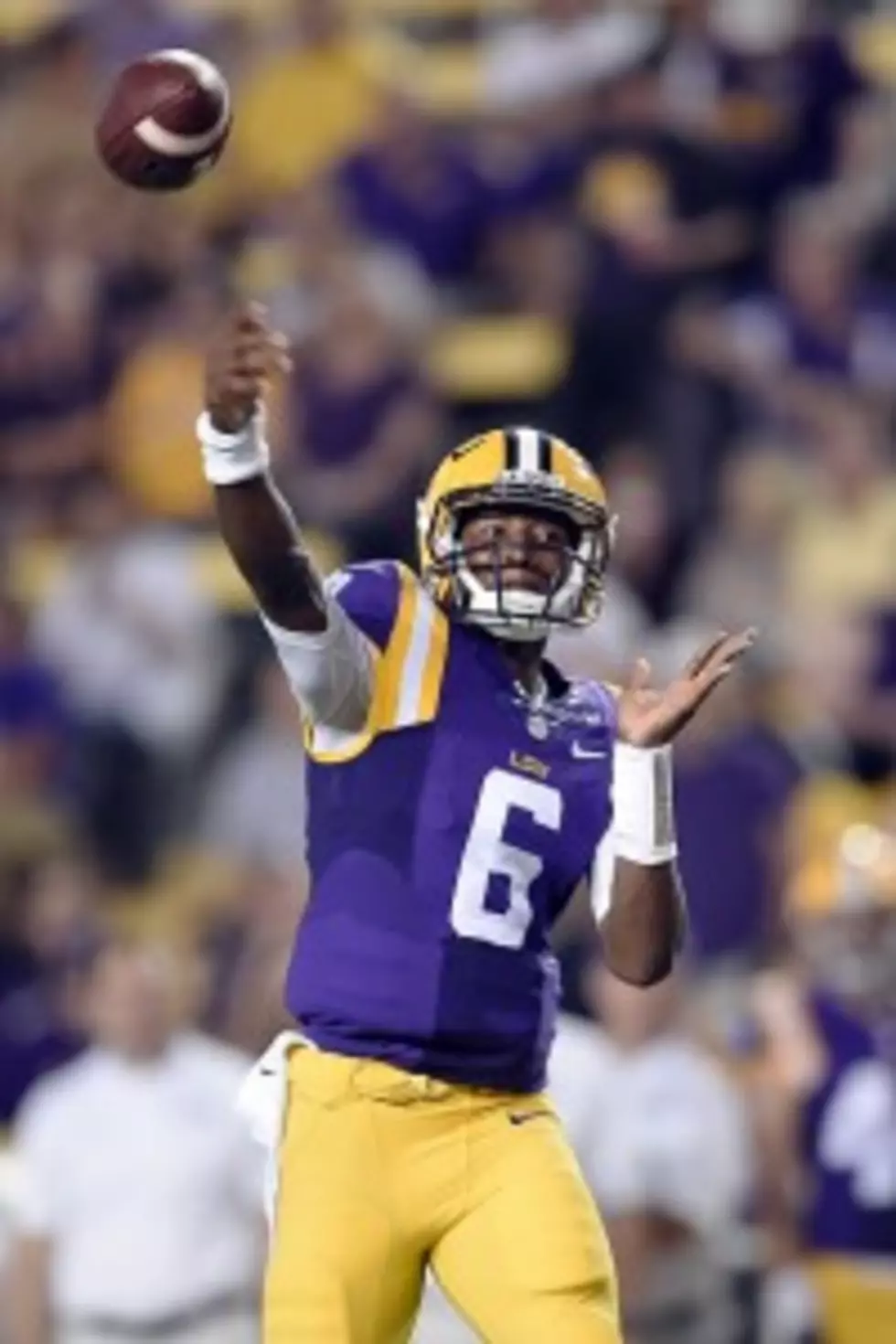 LSU Whips NMSU 63-7, QB Brandon Harris Shines
Photo by Stacey Revere/Getty Images
LSU sophomore quarterback Anthony Jennings played poorly for the Tigers early while freshmen QB Brandon Harris (pictured) came in and shined in the #17 Tigers 63-7 win over New Mexico State.
Jennings started, as he has all season, but struggled throughout the first quarter, committing 3 (2 interceptions, 1 fumble) of the Tigers 4 turnovers in the first 15 minutes of play.
Despite the early turnovers, LSU had no trouble versus New Mexico State, leading 14-0 heading into the second quarter thanks to solid rushing and an interception return for a touchdown by Kendall Beckwith.
The lead didn't temper the Tiger Stadium crowd of 101,987 chanting for the LSU offense to put in Harris. He entered the game at the 9:28 mark of the second quarter, looking comfortable and confidant. Jennings remained on the sideline the remainder of the night.
"We started very sluggishly and turned the ball over," said LSU head coach Les Miles. "Brandon Harris came in and did just exactly what we needed him to do...he made plays."
While Miles was pleased with Harris' game, he took an honest approach to Jennings play.
"Anthony Jennings is going to have to get better," said Miles. "I hope he hasn't lost confidence...He'll have to make changes. He'll have to improve."
With a road trip to #5 Auburn next Saturday, will Harris make his first collegiate start?
"We're not going to operate that way," explained Miles when asked who would start next week. "We've always done things in a measured fashion."
Harris got it done through the air and on the ground. Letting a Tigers power running game establish the flow, Harris finished 11-14 for 178 yards and 3 touchdowns, while rushing for another 36 yards and 2 scores.
Fellow true freshmen Leonard Fournette led all rushers with 132 yards and 2 touchdowns, while Darrel Williams carried the rock 10 times for 59 yards. Seniors Terrance McGee (8 car, 62 yds, 1 TD) and Kenny Hilliard (7 car, 53 yds) helped anchor the potent Tiger run game.
"It's nice to have all 4 guys (RBs) get those caries," said Miles.
On the night, LSU rushed for 363 of their 563 total yards.
With the victory, the Tigers improve to 4-1 on the season.
Next Satuday's game at #5 Auburn (4-0, 1-0) is set for 6:00.