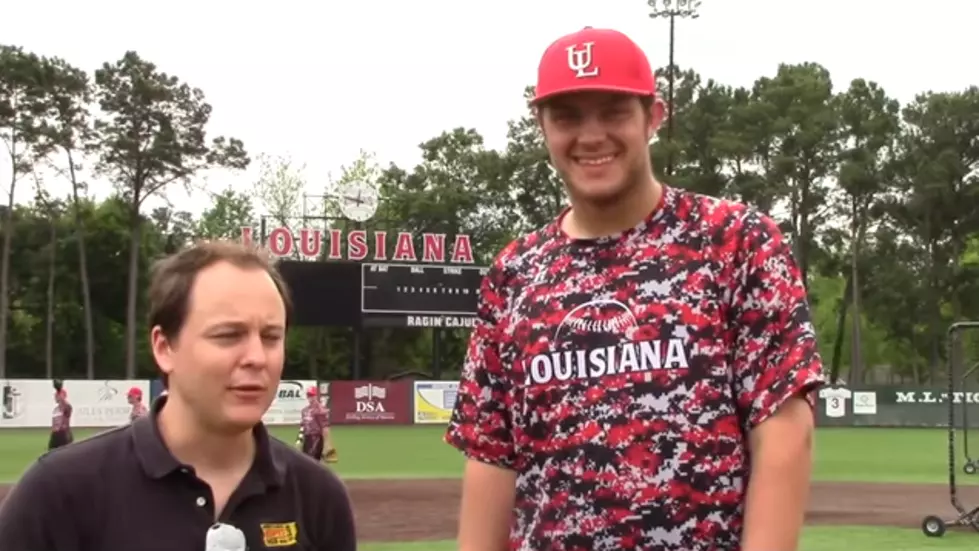 Reagan Bazar Accepts R.B.'s Challenge & Smokes Him [Video]
ESPN1420/YouTube
Three and a half years ago, Ryan Baniewicz (R.B.), now working for the RCAF, insulted my inability to even come close to hitting a pitch off All-American Ragin' Cajun softball pitcher Jordan Wallace.
As he continued to let me hear it, I told him to challenge Reagan Bazar.
At the time, Bazar was a freshmen at Louisiana. His first collegiate pitch was a 100mph fast ball. I witnessed it. He also went on to earn 2014 Collegiate Baseball Louisville Slugger Freshman All-American honors.
Bazar is now pitching in the minor leagues with the Arizona League Giants in Scottsdale after being drafted by the San Francisco Giants in 2016.
Some may remember this video. We were forced to take it down in 2015 when the NCAA gave stupid reasons, claiming it was a promotion, and if the video remained up, Bazar would be ineligible. We immediately took it down.
Because R.B. played high school baseball, he had a false sense of confidence about his ability to hit a fastball off of Bazar.
Even some pre-bat council and a prayer from Ragin' Cajun 2B All-American Jace Conrad at the time didn't help.