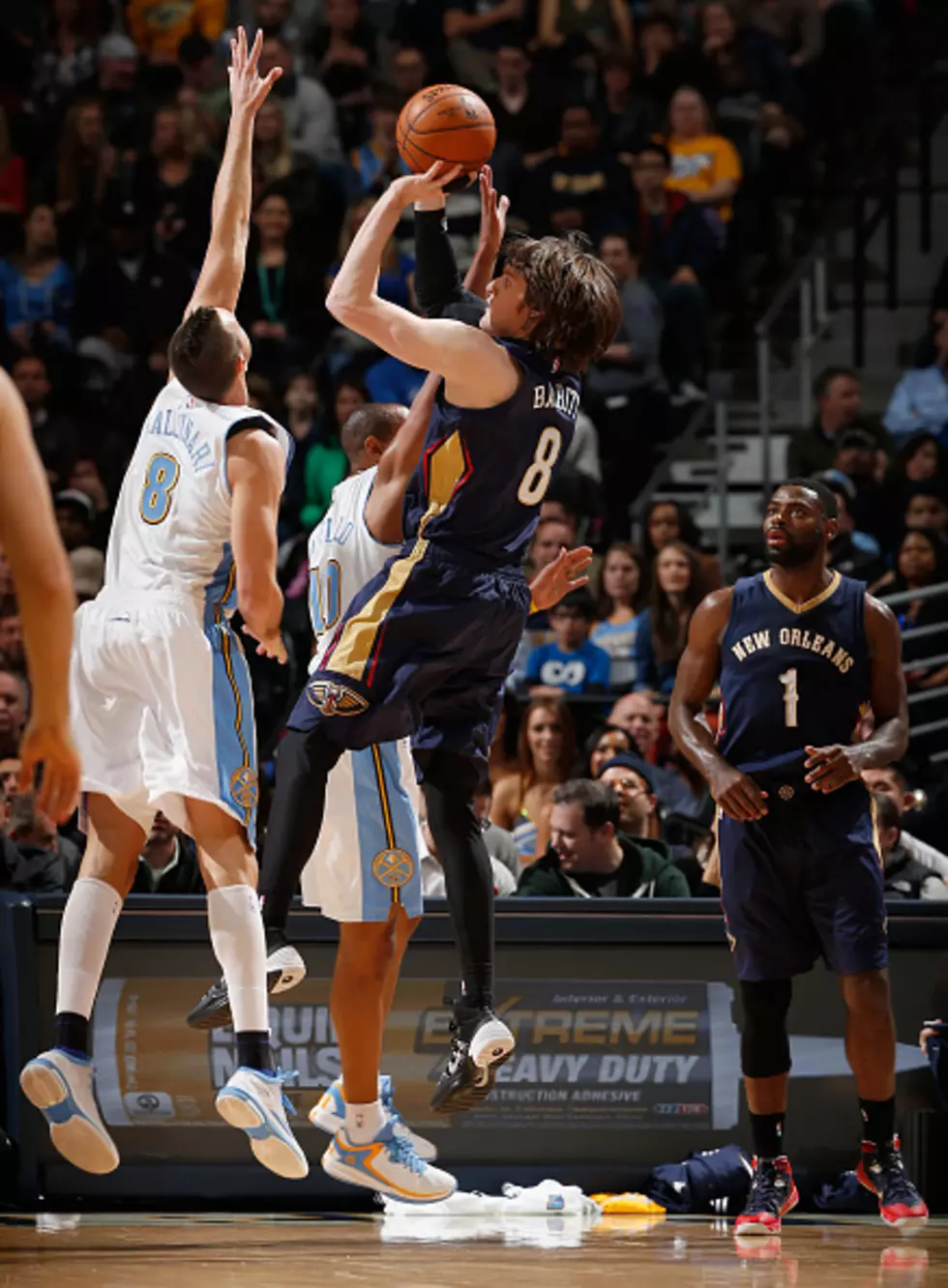 Streaking Pelicans Win Fifth Straight In Denver
(photo by Doug Pensinger/Getty Images)
The New Orleans Pelicans handed the Denver Nuggets their tenth straight home loss Sunday night and pushed their own win streak to five games.
In a season full of ups and downs, some fans would expect the Pelicans to play down to the slumping Nuggets. That wasn't the case though as New Orleans held off Denver for a 99-92 victory, while several stars were wearing street clothes on the bench. Apparently for Tyreke Evans and the rest of the team, the key to this current win streak is to simply push through whatever obstacle pops over the horizon next.
"We don't care what the score is, we just play," Evans said after the win.
Evans showed up big, as he has many times with the absence of Jrue Holiday, Anthony Davis and Ryan Anderson. The versatile slasher gashed the Nuggets for 22 points (7-14 FG) with 7 rebounds and 7 assists as well. His backcourt mate, Eric Gordon, splashed home 18 points, and Dante Cunningham (14), Alexis Ajinca (10) and Norris Cole (10) all reached double figures.
Interesting note on Cole: He's won every game he's played wearing a Pelicans jersey. Maybe they should have signed him earlier.
Whether Cole was the good luck charm the Pelicans' locker room needed or not, New Orleans picked up a win in the first portion of back-to-back road games. Next up, a date with true playoff competition: the Dallas Mavericks.
With the win, the Pelicans improve to 32-27 on the season. If New Orleans wants to squeeze into the eight seed in the Western Conference, they'll need to take the mojo they built in Denver with them all the way to Texas. Head Coach Monty Williams noticed the way his team pushed through a lukewarm start in somebody else's arena on Sunday night.
"It's a growth moment for us...we came into halftime and talked about playing smarter," Williams said.
The Head Coach also enjoyed his team's defense, holding Denver to 40% shooting. Most importantly, the Pelicans beat a team they aught to and preserved their win streak. With all the curveballs they've fielded, sometimes it best to appreciate the small things.