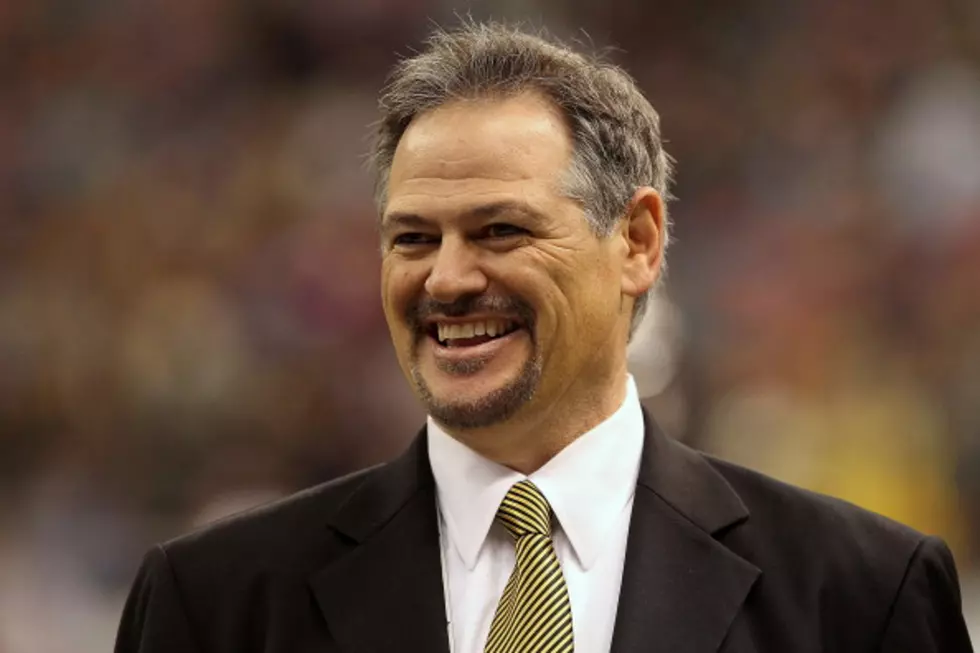 Photo by Matthew Sharpe/Getty Images
Brian Allee-Walsh of NewOrleans.com had a Q & A session with Saints general manager Mickey Loomis. Loomis, and the entire Saints football operations staff are facing a complex offseason, full of uncertainty because of the ongoing labor strife. Here is more from Allee-Walsh.
NOC: Whereas you tried to keep your '09 team intact to make a run at the Super Bowl this season, you did make hard personnel decisions by releasing defensive end Charles Grant and not overpaying veteran free safety Darren Sharper and linbebacker Scott Fujita (now with Cleveland). Will it be more difficult to accomplish your goals in the offseason based on the uncertainty of the labor issues?  

ML: Like I said, we weren't trying to just keep things together last year because we won the Super Bowl. We were trying to look at ourselves realistically and recognize that we have deficiencies and we need to improve in some areas. Will it be harder this year, I don't know. If you remember last year we were restricted by those 'Final Four' rules where we couldn't do anything. We couldn't go out and get into the free agent market last year like we wanted to. I don't know if we'll be able to do that this year because of a lack of a CBA. It's not going to be more difficult, it's just different. It can't be more difficult because a year ago we weren't allowed to do it. At least we'll be allowed to do it this time, if and when the time comes where we can. This year, we're on a level playing field with the other 31 teams. A year ago, we were not on a level playing field because we were restricted by the 'Final Four' rules. So we didn't have the same rules as 28 other teams last year.  

NOC: What is your organizational game plan right now? By that, do you plan to conduct business as usual even though a lockout looms possibly as early as March 4?

ML: We'll be at the Senior Bowl (in Mobile) next week. I think the college evaluation process will be no different. It remains to be seen what happens in terms of re-signing players and moving forward on veteran players.  

NOC: What are your thoughts about the CBA in terms of what it means to you as a GM trying to conduct business?  

ML: I don't think I'm going to address that right now. My thoughts are this: There are some pretty smart people at the NFL Management Council and some pretty smart people with the union (NFL Players Association), and it's really their jobs to get a deal done. They are the ones who are accountable for making a deal. I'm not in the process, so it would be wrong for me to comment about it.  

NOC: Would it be negligent as a GM and football operations to sit back and not conduct business as usual, despite the uncertainty of not knowing what tomorrow might bring?  

ML: We have to have in our minds what our plans are going to be in any event. Whether we have an agreement as of March 4 and even if we don't. We have to have our plans.  

NOC: So you will have contingency plans as an organization in place if there is not a new CBA in place by March 4?  

ML: Yes, our plans are not complete yet. We're still in the evaluative process with our team from a year ago. We're in the process of doing that. But we'll have a list of things that we want to get accomplished in this offseason, and it's just going to be a matter of how and when we can get them done.  

Read the entire article here: http://www.neworleans.com/sports/saints/saints-news/555578.html
This is arguably the most important offseason in New Orleans Saints history. With a window of opportunity open for a Super Bowl run, a few solid offseason moves can put the Saints back in the ultimate game. A few mishaps in the offseason, and the Saints window will begin to close. Brian Allee-Walsh did a fantastic job with his Q & A session with Mickey Loomis, who has a lot of work to do over the next six months.