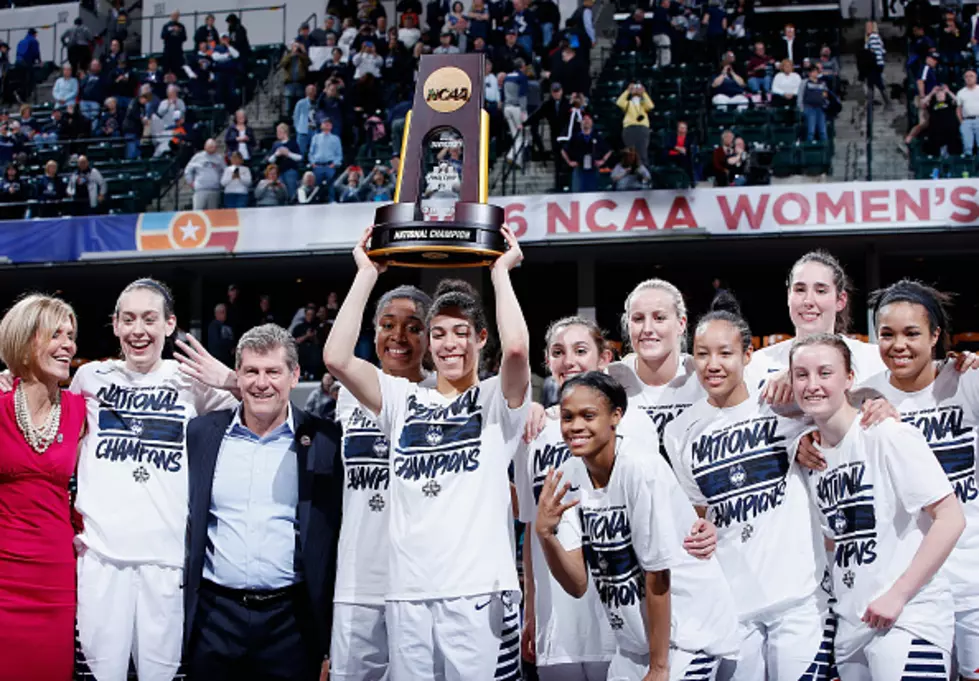 SHOCKING: UConn Wins Another National Championship
(photo by Joe Robbins/Getty Images)
History can't handle UConn's fourth straight Women's Basketball National Championship. Their dynasty is shattering all types of records, and there's no end to it in sight.
Everybody knew how Tuesday's National Championship game was going to play out: some poor team (in this case, Syracuse) would be subjected to a whooping, UConn  would cut down more nets and all the other coaches around the country would be forced to watch Geno Auriemma add another trophy into his growing collection. It happens every year. He now has more national titles (11) than any coach in the history of college basketball, including the great John Wooden.
The Huskies won every game this season by double-digits in an undefeated year. They destroyed their final opponent (82-51 win over Syracuse) to finish off a perfect season in fitting fashion.
If there's any question that the Huskies have the most dominant dynasty in the history of sports, they answered it on Tuesday. Not even Wooden's UCLA team could boast winning four straight national titles. Auriemma's Huskies are currently on a 75-game winning streak, and what's stopping it from reaching 100?
When Breanna Stewart, Moriah Jefferson and Morgan Tuck committed to play for UConn, they wanted to do something that was never done before. They accomplished their goal with four straight titles, and they did it with unbelievable ease. Their time leading the Huskies is over, but there's another crop right behind them, primed to protect the throne.
Some reporters claim UConn's dominance hurts the sport. It's hard to fault a team for being the best of all time, but it's definitely turning into a one-team race in women's college basketball.
Common sense and history tell us eventually somebody will rise up and challenge them, like Auriemma and UConn did to Pat Summitt's Tennessee Volunteers. It's just hard to see that happening any time soon.
For now, you can assume UConn will keep winning championships just like you can depend on your grass to grow or for the tides to keep ebbing and flowing. They're a force of nature, and you can count on them to come back like the rising sun.